How To Choose A Right Work Bag For Men?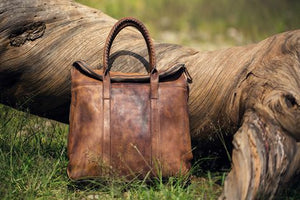 We've recently talked about Leather care, The difference between Full Grain Leather and Genuine Leather, how to make a handmade leather wallet etc.

It is time to attend for a lesson in a bag suitable for work. But first, let us be clear about one thing: you need a bag. Every career professional needs a reliable work bag - for your newspapers, electronics, wallets, umbrellas and ham sandwiches.

We're not talking about maybe a canvas or polyester fiber laptop bags since you went to college, or your father dragging a bulky black briefcase (yeah, you know that). We are talking about stylish, professional and practical work packages.

With the ever-increasing sales of men's bags, these portable accessories will not be anywhere at any time. Theoretically leave work to work is nice, but is it a reality? Our laptops often tag our commuter locations in and out of the office - portable laptop bags and briefcases must be available from Monday to Friday (and sometimes a weekend one, too).

If you are suitable for work every morning, you need an equally stylish bag. The Echopurse Briefcase comes with a detachable strap that can be used during morning commute times.

The Briefcase:

Why it's useful: The briefcase is the most popular of all work bags and is a good reason. Its classic shape, sturdy styling, and beautiful appearance are the perfect ways to identify parts.


Where to get it:  Canvas Briefcase Bag

Messenger bag:
Why it's useful: The messenger bag is the young cool brother of a briefcase. It will have as many files (as well as a laptop, too), but the shoulder strap and some very stylish design options are there, which is the beginning of today's fashionable workforce.


Where to get it: Vintage Messenger Bag

Creating a balance between fashion and professional is the goal, but not all packages can have both. When you wear a suit and tie, certain colors, patterns, and shapes are too casual. Similarly, in a business casual dress code company, some structured leather options may feel too formal.

The briefcase is one of the perfect gifts. If your husband or boyfriend has to dress up for work or attend a business meeting, then investing in a good briefcase for them can't be wrong.

If you ride a bicycle to work, this affordable briefcase bag won't let you down. Waterproof nylon is practical.
Have a nice day!
Leave a comment
Comments will be approved before showing up.