Everything You Need to Know About genuine leather vs Crazy horse leather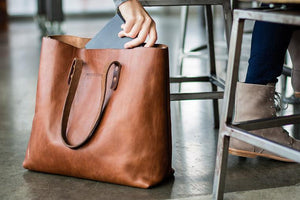 I think what I talk below is everything You Need to Know About genuine leather vs Crazy horse leather. Or it can be interpreted as How to genuine leather vs Crazy horse leather in 60 Minutes or Less.
As we all know, in normal conditions, the order of best quality is Full Grain Leather— Top grain Leather—Genuine and then Bonded Leather. The Crazy Horse Leather is a kind of Full Grain Leather.
Today's copper-toned gold-brown genuine leather bag is just a common trend in leather fashion accessories, which quickly lose steam. For a time, the height of fashion and vintage attire is dominated by genuine leather bags. The mood is this, if you really want to increase the depth of the wardrobe, then you need a genuine leather bag. However, at some point in the past five to seven years, the growing realization that not only is the top of your fashion game important, but also the need for durability and reliability becomes more apparent. The genuine leather itself does not meet this need.
The emergence of Crazy Horse Leather Bag is the only competitor of this vintage fashion demand, as well as the durability of real leather. Realizing that crazy horse leather can provide these two uniquely important qualities in leather has become more and more imminent in the fashion industry and is a direct threat to the companies that make these bags, known as genuine leather.
In contrast, genuine leather bags can last up to 2 years with good habits of daily cleaning and care. Whereas, crazy horse leather bags are known to last for up to 30 years without daily cleaning and care. Unlike Crazy Horse Leather Bags, genuine leather bags don't age over time. In fact, it quickly became clear that a real leather bag became more and more like it was made of plastic and synthetic materials.
Happy Shopping!
1 Response
Leave a comment
Comments will be approved before showing up.