Perfect Groomsmen Gifts - Are groomsmen gifts necessary on wedding?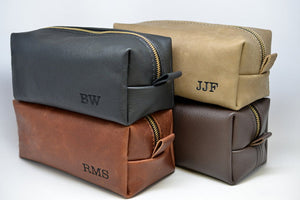 Looking for the best groomsmen gifts? We rounded up cool, cheap and unique groomsmen gift ideas you can buy now.
There are so many details for you to handle while planning your wedding, but one low-stress task? Treating your groomsmen and bridesmaids to thank-you gifts. (After all, they've most likely been a major help along the way.) While many couples choose to give their wedding party thank-you gifts after the rehearsal dinner, others like to have a moment with their bridesmaids and groomsmen the morning of. Overall, there isn't really a wrong time to do it.

When it comes down to picking a gift, we know you want to make sure you're getting something they really want. Plus, you probably want it to be thoughtful, yet affordable. Unique, yet practical. To help narrow your search, we've done some research and rounded up our top picks for groomsmen gifts by category, including unique, inexpensive, personalized and cool groomsmen gifts.
Groomsmen Gift Etiquette

Go for quality but focus on practicality. As fun as it is to buy off-the-wall groomsmen gifts, these types of groomsmen gifts aren't likely to be used again. When thinking of groomsmen wedding gift ideas, it's best to give your crew high-quality, meaningful gifts while also focusing on how practical the items are. Will your groomsmen only be able to use their gift once? Or will they be able to continuously use the gift and be reminded of how much fun they had on your wedding day?

Always set a budget. Budgets are always a hot topic when it comes to wedding planning. Many couples don't take into consideration the cost of bridesmaid and groomsmen gifts, which can potentially have a large impact on the budget. Have a discussion with your spouse-to-be to agree on a set budget for wedding party gifts in advance. (Don't forget to budget for smaller attendants too, like the ring bearer and flower girl.)

Make it personal. It's may be easier to find personalized groomsmen gifts that match if your groomsmen are the same group of friends since high school and all have similar interests. For a blended group of groomsmen, which may even include fathers or cousins, consider looking for some creative groomsmen gift ideas that suit each groomsman's interests and needs. The key is in finding the best groomsmen gift that symbolizes a lasting token of your friendship.


Unique Groomsmen Gifts
When it comes to shopping for unique groomsmen gifts, you want to look for that one-of-a-kind item that hasn't been gifted before. DIY gifts can be a great way to give a creative gift to your entourage, but if you don't have that kind of time (or creativity), consider one of the below wedding gift ideas for your groomsmen. These unique gifts will show your buddies how much thought you put into showing them your appreciation, regardless of the price tag.
If your best man is a photography lover here are some gift ideas for you:

Here's a unique gift idea for your groomsmen: a gift that keeps on giving.

1. Some of the best groomsmen gifts are those that are just practical—and a leather dopp kit may be just the thing. This wildly popular durable travel case has a roomy compartment and a sturdy, zippered for additional storage. Pair this gift with a personalized razor for an additional useful touch.

                                     Groomsmen Gift, Leather Dopp Kit Bag for Him
Dopp Kit- Groomsmen Gift,Custom Groomsman Gift
Bridesmaid Gift - Personalized Leather Dopp Kit,Bridesmaid Toiletry Bag
Bridesmaid Gift, Personalized Monogram Makeup Cosmetic Bag
2. Whether the guys are traveling for the wedding, the bachelor party or both, a canvas and leather carry on bag (with clever shoe compartment!) could come in handy.

Waxed Canvas Holdall, Personalized Duffle Bag
Waxed Canvas Messenger Bag, Personalized Crossbody Bag
Handmade Full Grain Leather Gifts for Men & Women
Canvas Weekender Tote Bag, Handmade Handbags
Waxed Canvas Leather Briefcase, Gift For Man, Father's Gift

With lots of other wedding costs to consider, it's understandable you may want to tone down your gift giving budget. Many couples opt to do DIY groomsmen gifts, which make the gifts even more personal and creative. You can also create a customized gift box using several of the cheap groomsmen gifts below. Or choose just one affordable find that looks high-end!

1. What's one of the most classic groomsmen gift ideas? A perfect addition to a custom gift set for your groomsmen is this carry-on sneaky and dependable flask. Go for stainless steel and Leather (it's easier to keep clean than some other metals) and finish the design with each groomsmen's initials. At just over $15, it hits just the right price point for affordability.

Groomsmen Gift, Groomsman Gift, Personalized Engraved Flask Set
Groomsmen Flasks, Groomsmen Gift Proposal, Mens Party Favors
Personalized Leather Groomsmen Gifts, Gift For Men,   Party Gift
Groomsmen Gift, Best Man Gift, Groomsman Gift Proposal, Usher Gift
2. This handsome dopp kit can be personalized with a monogram or filled with various items like travel-size toiletries or gourmet snacks. (Psst: This would be a great groomsmen gift for a destination wedding!)


The Knot Shop rugged canvas dopp kit, $20

Best Man, Usher, Shave Bag, Gift for men, Mens gift, Wedding gift Proposal
Dopp Kit, Leather Canvas with Flip Top Open, Best Man, Groomsman Gift, Wedding Gifts, Mens Gifts
Engraving or monogramming your gifts makes them totally original and personalized. To make them even more sentimental, you may also be able to add a special message. It's these personalized touches that show the thought you put into your groomsmen gifts and how much you appreciate your pals.



Leave a comment
Comments will be approved before showing up.