What Is The Waxed Canvas? Is It Waterproof?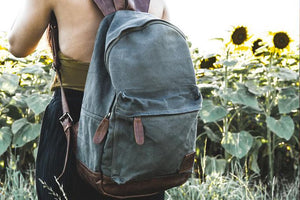 One of the most common questions we get asked is 'What is the waxed canvas?' and 'Is waxed canvas waterproof?'

Waxed canvas is vegan and is much more environmentally friendly than most other vegan leather substitutes which use products derived from the petrochemical industry. The production of paraffin wax generates very low-level chemical toxins.

THE HISTORY OF WAXED CANVAS

Waxed canvas is one of the oldest materials in the world, and is still popular today. Centuries ago, sailors noticed their sails caught better wind when wet; but wet sails are heavy sails, so they figured out they could cure the fabric. This allowed the fabric to receive water on the surface, but not soak in.

The waxed canvas was first conceived by Scottish fishermen in the 1800's. They discovered that their canvas sails caught the wind more efficiently when impregnated with linseed oil, and when the sail came to the end of its life they would recycle it into weather-resistant garments to wear while at sea.

Over time, this practice became so widespread that the concept became commercialized, the proofing perfected and mills began producing pre-waxed cotton and oilcloth. Today, ours is custom made right here in Scotland.

IS WAXED CANVAS WATERPROOF?

Well yes and no.

It's not completely waterproof. If you went swimming with a waxed canvas bag, it would leak. Equally, we don't use seam-tape on our bags, so some would leak in through the seams too. In a rainstorm, this isn't really a problem – but in a lake, a bag would be under pressure from the water around it, and it would eventually force its way in.

However, waxed canvas is extremely water-resistant. In a storm, the fabric will shed the rain with ease for prolonged periods of time. If the coating is maintained well, it will continue to do so for many years to come. Have a look at the video below to see water 'beading' off waxed canvas fabric.

                   Backpack No.1 →                                                       Backpack No.2 →                                      Backpack No.3 →
HOW DOES WAXED CANVAS WORK?

Waxed Canvas is made water-resistant by the coating itself. The cloth is densely woven, then completely saturated with wax, which naturally repels water.

By contrast, most synthetic fabrics are weatherproofed by applying a thin, impermeable membrane to the cloth itself. This works very well, and these treatments can be chemically altered to tailor their qualities and performance, but over time the membrane can perish, causing it to crack and peel from the fabric. When this happens, it's hard to undo, and the fabric becomes permeable again, so it leaks.

The wax coating means that the fabric marks easily, getting scratched and scuffed over time. Each time it's reproofed, these marks become part of the cloth and the overall color becomes richer. This gives it a beautiful patina that captures the story of the fabric as it ages.

Waxed canvas has a much drier feel than waxed cotton and has a pleasantly textured, supple surface. It is not sticky or damp to the touch And it is an increasingly popular material because it is eco-friendly and has a vintage charm.

                    Tote Bag No.1 →                                              Camera Bag No.2 →                                               Tote Bag No.3 →
Waxing canvas makes a great DIY project, and professionally-made waxed canvas products can offer high-quality formulations that increase the durability and timelessness of the fabric. Additionally, waxed canvas from a manufacturer is not typically made by rubbing oil or wax onto the canvas, but rather the canvas is produced with the wax or oil embedded into the canvas fibers.

Waxed canvas bags have a lot of character. The patina of the fabric becomes a record of all the adventures you've had and ultimately, waxed canvas wears in, not out, so the longer you have it, the more beautiful it will become.

                   Tote Bag No.1 →                                                        Briefcase No.2 →                                             Tote Bag No.3 →
All in all, what is the waxed canvas? - A durable, practical, and unique material that has endured - and passed - the test of time. In fact, it could be the last bag you ever need to buy.
Leave a comment
Comments will be approved before showing up.