What is Crazy Horse Leather? What is its essential nature?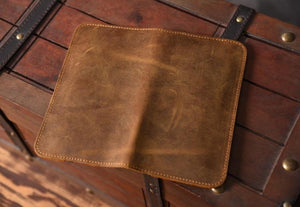 Recently there has been an overwhelming craze about the crazy horse leather.
People have been asking what exactly is crazy horse leather and how it is made of?

We put up a simple guide below for you to have a better understanding of the Crazy Horse Leather.


How is it made?

Crazy horse leather, also known as saddle leather, is made by applying a special kind of wax to the already smooth, full grain leather surface. Wax enhances the fibers of the leather, and when they are scratched or rubbed, the natural color of the leather changes its hue and gives it an antique look.


Advantages of crazy horse leather

Crazy horse leather is durable, strong, and of course its gives an unique look and feel which combines luxury and antique touch. With the wax applied to the leather, it protects the leather with water resistant and makes it more durable.



Why crazy horse leather feel 'waxy'? And looks scratched on it?

The process of making a crazy horse leather is to apply a layer of wax to the leather to create a unique effect by giving it a little bit of friction and scratches that can make minor changes to the shading and appearance of the material. This gives it a uniquely rustic, vintage look that will become beautiful over time. Of course, through the wear and tear, the crazy horse will become a scratched, scratched area and a rubbed area, showing a change of color tone that truly reflects the retro look.


Why is Crazy Horse Leather so Durable?

In this day and age, there are plenty of leather types. Each of these types of leather is made from different processes and finished applications. Due to the unique method of producing each type of leather, you will find some big differences in the quality of each leather type. In addition, due to the unique differences among various leathers, certain types of leathers have been found to be more suitable for the manufacture of different products and applications.

Crazy horse leather is one of this type of leather and has one of the highest durability. This exceptional durability is a direct result of a special purpose wax used to reinforce leather fibers.

As we know wax is highly resistant to water and other liquids. Therefore, when applied to polished full grain leather, it protects the leather fibers better than any other now used for leather. In addition, the wax is a natural substance that does not reduce the overall quality of full grain leather, thereby increasing its overall popularity.

Wax allows crazy horse leather to withstand most of the other leather types. Such as liquid, food, mold, fungus, sunshine, insects, and even some types of leather processing. Most of these substances and their decomposition properties are greatly reduced when in contact with Crazy Horse leather. Wax creates a protective barrier that keeps the crazy horsehide alive for a long time.
If you have any better ideas, please feel free to contact us. E-mail: info@echopurse.com

1 Response
Leave a comment
Comments will be approved before showing up.