THE CRAZY HORSE LEATHER COMES FROM HORSES?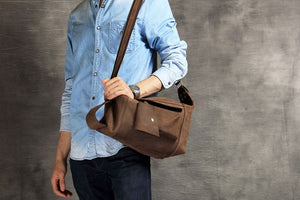 Recently, the crazy horse leather has experienced an overwhelming craze. We have some customers asking what Crazy Horse leather is. Why crazy horse leather is called "crazy horse" leather. Does it really come from a horse? So we took the liberty to answer some of these questions.
We've provided a simple guide below to give you a better understanding of Crazy Horse Leather.
How is it made?
Crazy horse leather comes from cows. This is a fact. Although, there are a certain number of actual horses used to replace cowhide. You will find that about 10% of each leather processed from cowhide comes from horseshoes. This is mainly because cowhide and horse skin have some of the same natural qualities. Therefore, they can be easily mixed together in the same tanning process to produce the same finished leather product. But on the contrary, the Crazy Horse Leather does come from cows.
Why is it called the Crazy horse leather?
Crazy horse leather, which can be called saddle leather, is made by applying a special kind of wax to the smoothed full grain leather surface. Wax can reinforce leather fibers, and when they are scratched or rubbed, the natural color of the leather changes its color to give an antique vintage look.
Leave a comment
Comments will be approved before showing up.