New Trend Could Impact Your Totes Bag--Vegetable Tanned Leather Bag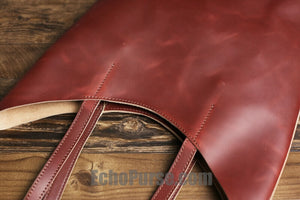 What will the material be your New Trend Could Impact Your Totes Bag?
There are many handbags and purses available but the EchoPurse Vegetable Tanned Leather Bag is one of the more comfortable totes. Even though the name sounds cool the bags are quite the fashion and come in many materials.
Purses are often shopped for by women right up there with the frequency that women seek to purchase shoes to go as a clothing accessory. To have only one purse and one color is usually not enough for most females. But what exactly is an EchoPurse Vegetable Tanned Leather Bag?
This bag is introduced today is A Vegetable Tanned Leather Bag has a crescent shape where it typically bends in the middle. Since Vegetable Tanned Leather is one of the FULL GRAIN LEATHER (I've talked about that before), the leather will soft and comfortable for you.
The bend makes the bag have that U sort of shape or the crescent look and one would typically carry the tote by having it hang over the shoulder. They come in a large variety of smart styles and many colors and sizes. These EchoPurse bags are all large usually and hold a lot of items while allowing you comfort while you carry them. Just don't overload it too much as you might pain your back.
With the many styles of Leather handbags available, there are also many materials that one will find them in. There are combinations of leather and straw or leather and fabric while these remain very stylish they are not as expensive as a purse made of all leather. Some other materials available are plaid and tapestry, leatherette, canvas, leather, suede and maybe more.
Some of the handbags and purse styles are really a hot item right now. You can find them in patterns to match your outfit of plain with a very simple design to it or go all out and have pockets and flaps and compartments that are ever so handy too. And if you want to be all decorated you can get them in styles that have a very decorative closure and clasp combination.
These Chic stylish modern designs will accentuate many outfits you have or go with a casual design for your spare EchoPurse tote bag to use at the beach or for a walk through the mall on. There are plenty of high-quality EchoPurse Vegetable Tanned Leather Bags available and many are not expensive at all.
For a Simple style designer type EchoPurse bag, you can do some comparing while you shop and probably find one for around one-hundred dollars. But if you want to get that designer bag like Prada then you might as well plan on shelling out hundreds of those hard-earned dollars.
EchoPurse bags make wonderful gifts for someone so whether you want a purse for yourself or are trying to find just the right clothing accessory gift for someone you can in buying one of these handbags.
So for a night on the town in glamour and style or pure fun or even a casual shop around town or a walk in the park get an EchoPurse Bag or two and be comfortable and accessorize in fashionable EchoPurse Bag totes style.
So I highly recommend buying a tote bag at our store→ EchoPurse Bag
Why not give it a try? You never know how much praise will you receive from this bag. : )
Happy Shopping!!!
Leave a comment
Comments will be approved before showing up.