Why do natural leather products will have a variety of defects?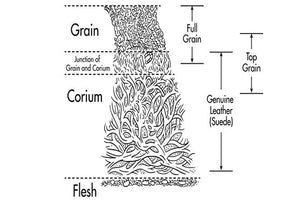 In daily life, you may have one or two pieces of leather products. Have you ever wondered why the full grain leather will have some defects?
Natural leather products will have a variety of spots, color reproduction of ancient, shallow scratches and skin marks, each spliced skin texture is also different, these are not the cause of quality problems.
The leather is a classic material. Durable, stylish and tough, a good leather should last a lifetime. However, like most things, you need to show some love for your leather. The better the effect of keeping leather, the longer the duration, the better the effect. This is a special kind of material, you can't just throw it in the wash, so it's important to understand how to maintain it.
The main reason behind the cracked or leather is humidity. Because the fabric is soft, supple and non-waterproof, the oil and moisture remaining after prolonged use will evaporate through the pores of the leather. Therefore, when leather hides loose moisture, the material begins to shrink and harden. This leaves a small space between the leather and the color coating surface above it. As the color coating is no longer supported by the leather, the material eventually begins to break.

Maintenance/Upkeep
1. Apply cream/moisture lotion to the surface of the leather and use a soft cloth for maintenance.
2. Avoid using alcohol, turpentine or other mineral oils to clean the product as they will discolor and dry the leather.
3. Do not allow water to soak into your bag. Do not use a hair dryer if the bag gets wet. Instead, use a thick microfiber towel to absorb as much moisture as possible and allow the bag to air dry. Then, adjust and store it again.
Leave a comment
Comments will be approved before showing up.