What is the best leather to use for bags?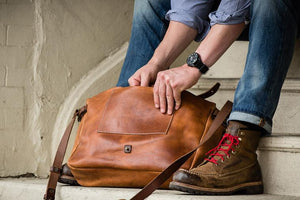 In my limited experience, it depends on bags type. Each bag type has different types of leather. Any leather can be used for bags. like the suitable leather for wallet, briefcase bag is top grain leather, cowhide leather is best for handbags. For a classier style, I would suggest the crazy horse leather.
The very popular and growing craze over crazy horse leather and it's unique antique appearance is taking the international online community by surprise. A simple scratch or rub turns the leather fibers to a different shade, a slight bend and the entire bend line fades to a different shade as well, and still this type of leather is as durable as any other high-quality leather.
Crazy horse leathers are made by applying a special kind of wax to a full grain leather surface that has been buffed and smoothed out. The type of wax used rests independently upon the leather fibers allowing the coloration of the leather surface to change if rubbed without the colors immediately reversing back. This process of rubbing and altering the color shades is what causes the antique appearance and is exactly what the craze for this leather is all about.
Crazy horse leather is not a fairly new type of leather and has been around for some time now but only recently has the production of it began to pick up steam.
Currently, you can find quite a few leather goods on the market that are made of crazy horse leather. About 70% of all crazy horse leather goods are coming out of China. In fact, almost our entire leather products catalog consists of crazy horse leather made briefcases, satchels, wallets and backpacks, and all of which are handmade and shipped from China.
If you have other insights to leave a message on our website or contact us directly, I am looking forward to a collision with your thoughts.
Leave a comment
Comments will be approved before showing up.