The ultimate guide to choosing a laptop bag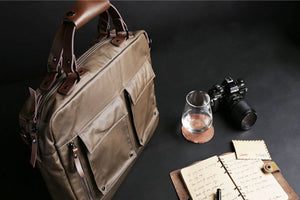 Choosing the best laptop bag is challenging, depending on personal preferences and needs. A good laptop bag is undoubtedly one of the must-have accessories for a laptop. It helps you efficiently carry paper with other gears while keeping your laptop safe and protected. However, there are some key factors that must be considered before placing your hand on the best laptop bag.
Easy To Carry
Your laptop itself is heavy. Why use a bulky shoulder bag or backpack to add weight? Fortunately, the laptop bags that are usually manufactured today come in a variety of materials - durable and lightweight materials. Today, laptop bags are made of leather, ballistic nylon, canvas or polyester to ensure your gadgets are safe and secure.


Typically, laptop bags are ergonomically designed with heavy-duty padded shoulder straps designed to reduce shoulder or back tension. You must choose a package that will make you feel comfortable in your daily life.
Waterproof
Some of the best laptop bags are waterproof. In the rainy season, you don't want water to seep out of the bag. To this end, notebook bags are usually made of various materials such as suede, leather, vinyl, microfiber, nylon with napa leather, cemented carbide, and the like.
Size and Compartment
The first thing to do - make sure the bag you purchased matches the size of your laptop. Then, ask yourself if this bag also has enough space to place other accessories, such as headphones, batteries, webcams or any other internet connection device.
Another key aspect is to make sure your laptop is safe, not just water or accidental ground meetings, but other items you carry. A suitable laptop bag must have the necessary organization to carry important items, a padded laptop case and a file divider. Be sure to choose a bag that meets the functional requirements you need.
Personal Style
Finally, after considering all of the above, choose the bag that best suits your style. Some people like to design retro leather bags, others prefer military canvas bags. While the Canvas bag may be great for students and travelers, it may not be the best choice for men in suits...Maybe you could choose canvas and leather bag for business use.
In Conclusion
In short, choosing a favorite laptop bag is a great idea. The laptop bag is sturdy, spacious, lightweight, and doesn't suffer from ergonomic design. Aim the shoulder strap, if you want to stay comfortable for a long time, you can inject extra foam and enhance the filling layer.


Leave a comment
Comments will be approved before showing up.