How Do You Choose The Right Bag For Work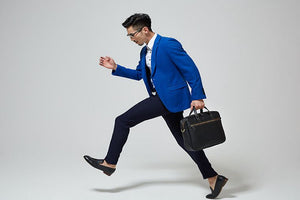 Every career professional needs a reliable bag. After all, you believe that this bag can carry your documents, electronic devices, umbrellas, wallets, lunches, etc. with you every day. Your backpack at the university will no longer be done, now it's time to move on to the next level. But how do you choose the right bag for your professional environment, yours needs and style? Just answer the 4 questions below.
1. What are your needs?
The first thing to do is - what will you carry? Do you need to provide a large
backpack
or
briefcase
for your laptop and paper, or do you keep the materials in the workplace? How important to you is that this bag has many compartments and zips for better internal organization (and protect your phone from key scratches)?
Make sure the bag you buy is comfortable, first and foremost it won't be too heavy, adding more weight to your already heavy laptops and documents. If it's a backpack, make sure you have the proper padding on your back and shoulder straps. If it is a shoulder bag or a messenger bag that you are interested in, please note that the strap is not only padded but also wide enough to better distribute the weight of the shoulder. From a comfort and health point of view, a good backpack is the best choice.
Another thing to consider is whether this bag can be used for something errand or something unrelated to work. Maybe you go to the gym after work or buy some small things through the supermarket, so it's a good idea to leave some space for extra items outside the plan, but at the same time, avoid buying a bag that is too big for you. As a rule of thumb, you may not need a bag with a capacity greater than 25 liters.
Your bag must suit all your necessities.
2. where do you work?
What is your office culture like? Are you and your colleagues wearing button-down shirts and suits, or wearing T-shirts and jeans in the workplace? Needless to say, your job tends to be in the business/legal/management area, you need a high quality, elegant bag, whether it is a briefcase, shoulder bag, handbag or laptop backpack (although the last one is not always with the suit together). If you work for a company with a young atmosphere, the overall look can be more laid-back and stylish.
3. How do you get to work?

How do you go to work every day? Are you driving to and from work, taking public transport or walking or cycling to work? If you commute to work and put your luggage in the passenger seat, the weight and comfort of the bag is not as important as when you carry it around the back or shoulders of the city. However, if you commute by bike, it makes sense to buy a backpack or messenger bag. If you frequently commute on rainy days and want to protect your laptop and paper, make sure your bag can be designed, covered or treated with an insect repellent.
Another thing to consider is how often you go to work. This applies to both the comfort of carrying luggage between the airport and the city, as well as the impression of the people you meet, if you encounter them directly after landing. A more organized bag will not only be more comfortable, it will look more elegant, it will be better for your body, and it will save you unnecessary access to the orthopedics for a long time.
Make sure your suitcase is comfortable to carry your daily commute.
4. What is your style?
Like other life, the bags you like are taste and old habits. First you have to choose the type of bag - is it a briefcase, a backpack or a crossbody bag? As mentioned above, the briefcase is considered the most classic choice, but it is not the most comfortable choice. If you often carry a lot of cars instead of going to work, a backpack or shoulder bag may be better for you.
In terms of color picking, if your workplace has all formal dress code requirements, keep it conservative and choose black or brown as they match most of your clothes. I like the elegantly structured bag, which keeps its shape even when it is empty, avoiding the use of big brand logos. For briefcases and shoulder bags, leather is a more fashionable material, while high-tech fabrics are considered more practical and professional (they always choose blacks). You can leave the basic polyester backpack for other uses.
Working for a company with a younger spirit allows you to experiment with more modern, less conservative bags, including a wider range of materials, structures and colors. In any case, keep in mind that you are still looking for a bag that is primarily used for work, so you may retain true wild colors and designs after work.
The style of your bag should match the company's atmosphere. In conclusion, choosing the right work bag doesn't have a clear answer, because it depends a lot on you, your professional environment and your needs. However, by answering the above four questions, you should have a better understanding of how to find the right bag for you - a bag that meets your needs, send the right message to your colleagues and boss, and be comfortable to carry.
Finally, think about your new bag as an investment. The higher the quality, the better, it will serve you, we all know that good bags can be used for decades!
Leave a comment
Comments will be approved before showing up.